by Lilit Garibyan, MD, PhD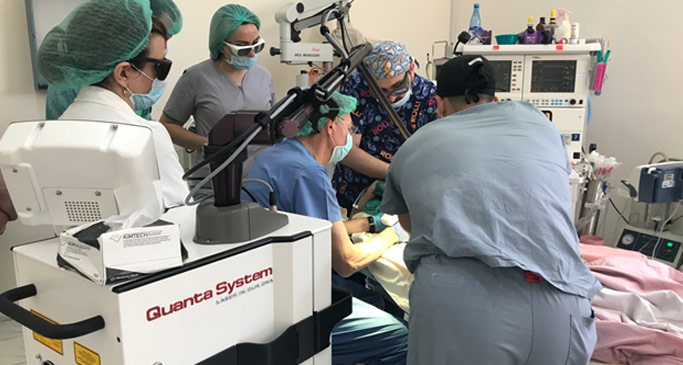 Cover photo: Dr. Rox Anderson doing a scar laser treatment with fractional CO2 laser from Quanta and training a group of Armenian physicians on the use of this laser.
It is a pleasure to share with you my reflections from a recent trip to Yerevan, Armenia. Dr. Rox Anderson and I have been going to Armenia since 2013, but this trip ended up being one of the most rewarding weeks of my career. I got to see first-hand the measurable success that our laser treatment project has achieved in Armenia and the lives that have been changed for the better because of our work.
When we began in 2013 our mission was to establish medical laser clinics in Armenia and to train Armenian physicians how to use the lasers to treat patients with life-altering birthmarks and severe scars. Prior to our project, such medical laser technology and training did not exist there. Our ultimate goal is to make laser treatments available to all patients regardless of their economic status and we are grateful to Candela Laser Corp and Quanta Laser for donating and delivering the lasers for this project to Armenia.
During our week in Yerevan, Dr. Branko Bojovic, an attending surgeon from the Department of Plastic Surgery at Massachusetts General Hospital, joined Rox and I in treating dozens of pediatric and adult patients and in training the leading local plastic surgeons at two hospitals. Dr. Arman Serebrekian and Dr. Maral Skelsey also accompanied us on this trip.
While there we signed a Memorandum of Understanding with the leaders of each hospital acknowledging that the treatments would be done free of charge for children. Our team was also interviewed by local TV to continually educate the public about medical laser therapies. Since laser treatment of scars and vascular anomalies are treatment modalities that did not previously exist in Armenia a lot of public education and demonstration of results is needed to get the public trust in the work we are doing.
The most rewarding part of the trip was to see how far our mission had progressed. I am very proud to say that we now have two independent and functional laser clinics in two different hospitals/centers in Yerevan. Each clinic has 3 donated lasers and fully trained plastic surgeons doing the treatments. The results and outcomes of their work was so outstanding that some of the parents of these kids were crying from happiness. It was an amazing feeling to see that our years of hard work finally came to fruition and we played a role in giving these kids who have benefited so much from the laser treatments, a better chance in life. One of the teenagers who was born with a large port-wine stain on her face told me that before the laser treatments she was embarrassed to even look out the window, she avoided being around people and never went out socially. Now after getting the laser treatments, her life had transformed. She was confident about herself, and she had made friends with whom she regularly went out socially.
There is nothing more deeply satisfying for me, than to help a child in need, and give them the opportunity to live a normal life. Especially in Armenia, when you take care of a child, you have not only changed their life, but also the lives of the entire family. Successful treatment of a child enhances the quality of life of the tight knit, extended family.
This work was truly inspired by the work that Dr. Than Nga Tran and Dr. Rox Anderson, who had been already doing similar work in Vietnam for years. It was their hard work and exemplary actions that set the stage for me to repeat this in Armenia. I want to thank them for their dedication and inspirational work.
Although we have accomplished a lot in Armenia there is still much more work to be done to accomplish our mission of establishing fully functioning and sustainable medical laser clinics where every patient, regardless of their economic status, can have access to high quality care for vascular birthmarks and scars. For that reason, we have started a non-profit organization called "Face of Angel". To learn more about this organization please visit www.faceofangel.org or contact me directly at lgaribyan@mgh.harvard.edu.