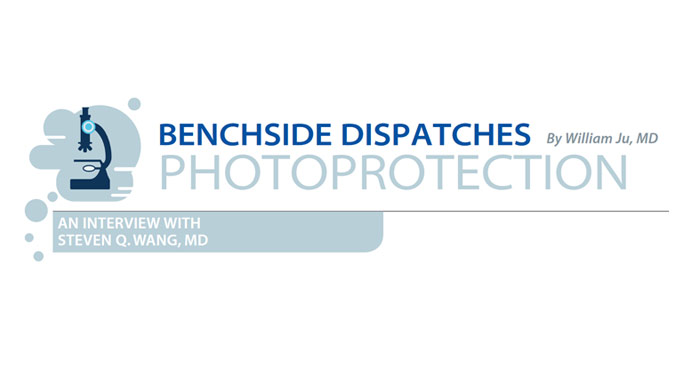 Photoprotection: An interview with Steven Q. Wang, MD
Welcome to the fourth installment of Benchside Dispatch, a series of interviews with top researchers in the field of dermatology intended to highlight important advances in the care of medical skin disorders.
In this installment, Steven Q. Wang, MD, discusses photoprotection. Dr. Wang is a board certified dermatologist and Director of Dermatologic Surgery and Dermatology at the Memorial Sloan-Kettering Cancer Center in Basking Ridge, New Jersey. Dr. Wang serves on the board of the Photomedicine Society and on the Photobiology Committee of the Skin Cancer Foundation. He has published extensively in peer reviewed scientific journals on photoprotection and is co-editor of the academic textbook "Principles and Practice of Photoprotection.
Photoprotection seems like such a simple thing. Patients should wear sunscreen and they should know that taking precautions against harmful ultraviolet (UV) radiation is in their own best interest. However, as we learn in an interview with Steven Q. Wang, MD, there are a lot of misconceptions about photoprotection and our current view of the topic may be over simplified. From a public health perspective, there are limitations in being able to influence good behavior on the part of patients, even with a seemingly simple task such as applying and re-applying sunscreen. Moreover, although we are readily counseling patients against UV light, newer evidence suggests that exposure to energy from the visible and infrared regions of the solar spectrum can also induce biologic changes in the skin that can have unhealthy
consequences.
Thankfully, as Dr. Wang points out, emerging research is unveiling novel strategies to provide more robust protection, and new technologies in the pipeline may even facilitate greater compliance.
Read the full article: Download PDF